Credit Score Myth 6 spread by Credit Sesame
Popular credit scores' scales do not have 850 points
| By Greg Fisher
FROM: Greg Fisher, greg@truthandfalsity.com
TO: Jeff Mullins, editor, Elko Daily Free Press, Lee Enterprises; Jeff Mullins, editor, Elko Daily Free Press, Lee Enterprises; Adrian Nazari, CEO, Credit Sesame; Adrian Nazari, CEO, Credit Sesame
DATE: Tuesday, March 12, 2019, 9:45 AM
SUBJECT: false information you published
Jeff Mullins, editor
Elko Daily Free Press
Adrian Nazari, Credit Sesame
Mountain View
See this message and your response at creditscoring.com/interaction/2019/03.
Mr. Mullins, as part of a letter to the editor, you published this: "Saul Alinsky championed this and became leader of the movement, henceforth picked up by Bernie Saunders, B. Obama, Pelosi, Pocahontas Warren, Hillary Clinton, Charles Schumer, Maxine Waters, Al Franken, Dianne Feinstein and today's Washington is following the same path."
Letter to the editor. (2019, March 08). Letter: Constitutional crisis. Retrieved March 12, 2019, from https://elkodaily.com/opinion/letters/letter-constitutional-crisis/article_4cb5a14c-2916-5340-8ad4-ab6cf40ff281.html
Ahem.
Bernie Saunders played hockey. #Error6
Credit scoring
Your website refers to a credit score called Vantagescore, and then describes it with the categories of information from another score brand, Fico. The article indicates that payment history makes up 35% of the score while Vantagescore, itself, indicates that payment history is generally 40%. In your article, credit utilization is 30%; in Vantagescore's paper, it is 20%. In fact, your article delineates 5 categories, while the Vantagescore document lists 6.
Credit Sesame. (2019, February 24). Nine easy ways to improve your credit score. Retrieved March 12, 2019, from https://elkodaily.com/lifestyles/home-and-garden/nine-easy-ways-to-improve-your-credit-score/collection_3c4eb0eb-5dbe-55bc-b6ae-270d14cc1269.html
And, here's how Credit Sesame, the author, describes part of the score:
Credit utilization (30%): How much of your available credit are you using? The lower the credit utilization ratio, the better.
Actually, it's not that simple. In Fair Isaac's (the Fico score company) description of its score, an entire category of factors, not just a ratio, make up 30 percent of a score. #1902N
Call that confusion Credit Score Myth 7. #Myth7
Yes, this is complicated. But, it shouldn't be for a company whose name contains the word credit. The top person of Credit Sesame is Adrian Nazari. As you can see, I sent a copy of this message to him.
What is your correction policy?
Credit Score Myth 6 spread by Credit Sesame
Mr. Nazari, you tell a person that a his Vantagescore credit score is something "out of 850." #falsity
Rodeck, D. (2017, July 17). How I Got into the 800 Club with No Loans. Retrieved March 12, 2019, from https://www.creditsesame.com/blog/credit/how-i-got-into-the-800-club-with-no-loans/
No, it isn't. There are not 850 points on the scale, only 550. See Credit Score Myth 6. #Myth6 - #1607az
Your error error so big it is laughable. What are you doing about it?
--
Greg Fisher
Truth and Falsity
truthandfalsity.com
The Credit Scoring Site
creditscoring.com
PO Box 342
Dayton, Ohio 45409-0342
mobile/text 937-681-3224
creditscoring.com.vcf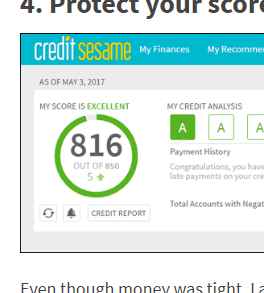 Credit Sesame assigned the number 154604 to the message.
@creditsesame You published, "A credit score is considered 'good' by most lenders when it falls in the range of 640-719 on the 850-point scale used by FICO." https://t.co/zInOLAxUa6

That is false. It is not an 850-point scale.

Now what? #Myth6 #falsity #falseinformation #1607az

— Greg Fisher ?? (@creditscoring) July 31, 2018
Follow the activity of Items 1607az and #1902N using those hashtags.