Open letter about credit scores to Brian L. Roberts, NBC
False information about U.S. history, and no substantiation about credit scores
| By Greg Fisher
Open Letter
Greg Fisher, creditscoring.com
December 3, 2018
Brian L. Roberts, NBC News, Comcast
New York
Liz Johnstone, Politics editor, @NBCNews
New York
Leigh Ann Caldwell, NBC News
Washington, D.C.
Thomas E. Murphy, Murphy & Sylvest
Dallas
Shammara Lawrence, writer
New York
Margaret Omalley, Better editor, NBC News
New York
Dear Mr. Roberts:
Shammara Lawrence wrote
Picture this: You get an email notification that your credit card bill is almost due. You acknowledge the reminder and swiftly move it to trash. A couple of days later, you get another saying that you need to make a payment tomorrow. Any reasonable person would simply pay it off then and there, or set a reminder for the next morning so they know to take care of it. But not you. You let the bill sit there, unpaid, until it's a week past due and you're hit with added interest.

Well, I'm not proud to admit I've been in that exact predicament once before, which resulted in a lowered credit score, a significant factor in one's financial health — and all because of my own laziness.
That is not true. It is impossible. A credit score cannot be lowered by a payment that is a week past due because credit bureau files do not contain any data for anything that is less than 30 days past due. I call what you published Credit Score Myth 13.
Perhaps the writer is lazier than she admits.
Here is a verity test using something less arcane than credit scoring. You published, "Senate Majority Leader Chuck Schumer told NBC News that he dropped his objection to the extension even though there wasn't an agreement yet on the larger spending bill."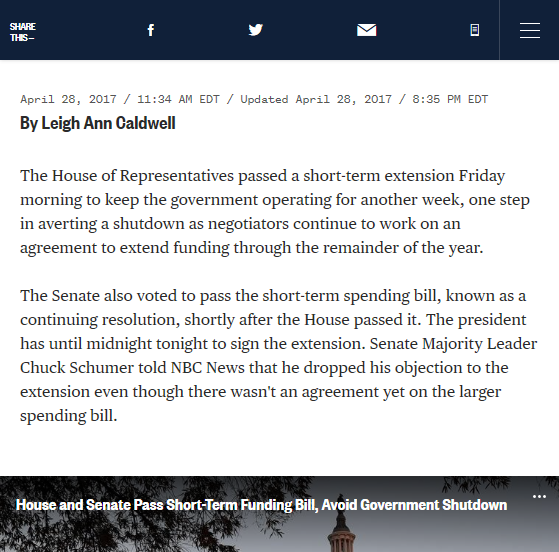 You are wrong. Everybody knows that Schumer is not Majority Leader. Even the writer, Leigh Ann Caldwell knows it: Another article of hers refers eventually referred to him as Senate Minority Leader Chuck Schumer.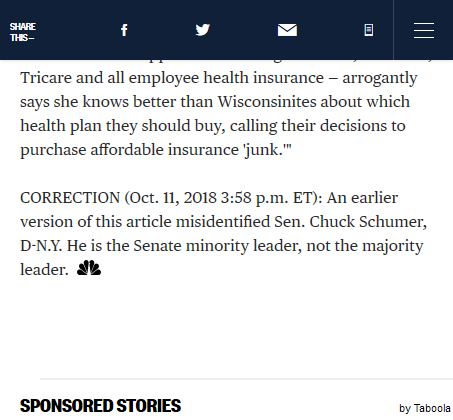 Now, your article is appended with a correction of the false information that I identified. #1810R #Error9

However, another article (with the same error) that I told you was (and still is) not true remains uncorrected https://t.co/G8jXolLNeI. #1803C

Again: Who is your editor? pic.twitter.com/ucJse4tM2T

— Greg Fisher ?? (@creditscoring) October 12, 2018
Please review all your stories. I am.
To put an extremely fine point on the issue of communicating with me (or, as the case may be, not communicating), I registered the domain leighanncaldwell.com, and that makes it hard to miss this message. It appears that Ms. Caldwell did not renew.
You're not the 78 super hero.

I am. https://t.co/QCHXR0y3oi pic.twitter.com/3Y3VOMnxga

— Greg Fisher ?? (@creditscoring) November 3, 2018
Maybe you all are aghast. Maybe you are amused. Maybe you could not care less. Whatever the case, false is false, and I am not putting up with your megalomania. If U.S. citizens can't get cooperation on something as simple as fundamental American history, what chance does credit scoring have?
What is wrong, Ms. Omalley?
Mr. Murphy, in Lawrence's article, you said: "For example, get a credit card and use it to buy a pizza. [Let's] assume it's $12.50. Use it for nothing else. Pay $13.00 then wait a month. Do it again. That $0.50 positive credit does interesting things to your credit rating."
What things?
--
Greg Fisher
Truth and Falsity
truthandfalsity.com
The Credit Scoring Site
creditscoring.com
PO Box 342
Dayton, Ohio 45409-0342
mobile/text 937-681-3224
Follow the activity of Item #1810R using that hashtag.